Is it necessary to have an occasion for cutting a cake? I mean who doesn't like eating cakes and pastries. So you don't need to wait for an occasion. Every day is an occasion if you want to eat cake. Prem Sweets And Bakers is the best bakery in Moradabad to get your favourite cakes.
All you need is your loved ones and a delicious cake. Ask your loved ones to have a get together and we are ready with your cake. Any occasion's fun can be doubled by a beautiful and delicious cake. Also, occasions get a little boring without a spongy white beauty or a gorgeous pink Barbie cake.
The rest options vary and depend upon the occasion. Cake and pastries are indeed the charms of an occasion. It is a bundle of sweetness, joy, and happiness that drool in our mouths. One's cravings automatically get doubled by seeing a cake.
The flavor, shape, taste, and beauty of the cake everything matter. Especially what makes a cake best is its baking process. You can bake a cake at home. But it probably leaves your kitchen with a great mess. Here's an easy idea: get yourself a cake from the best bakery in Moradabad – Prem sweets and Bakery.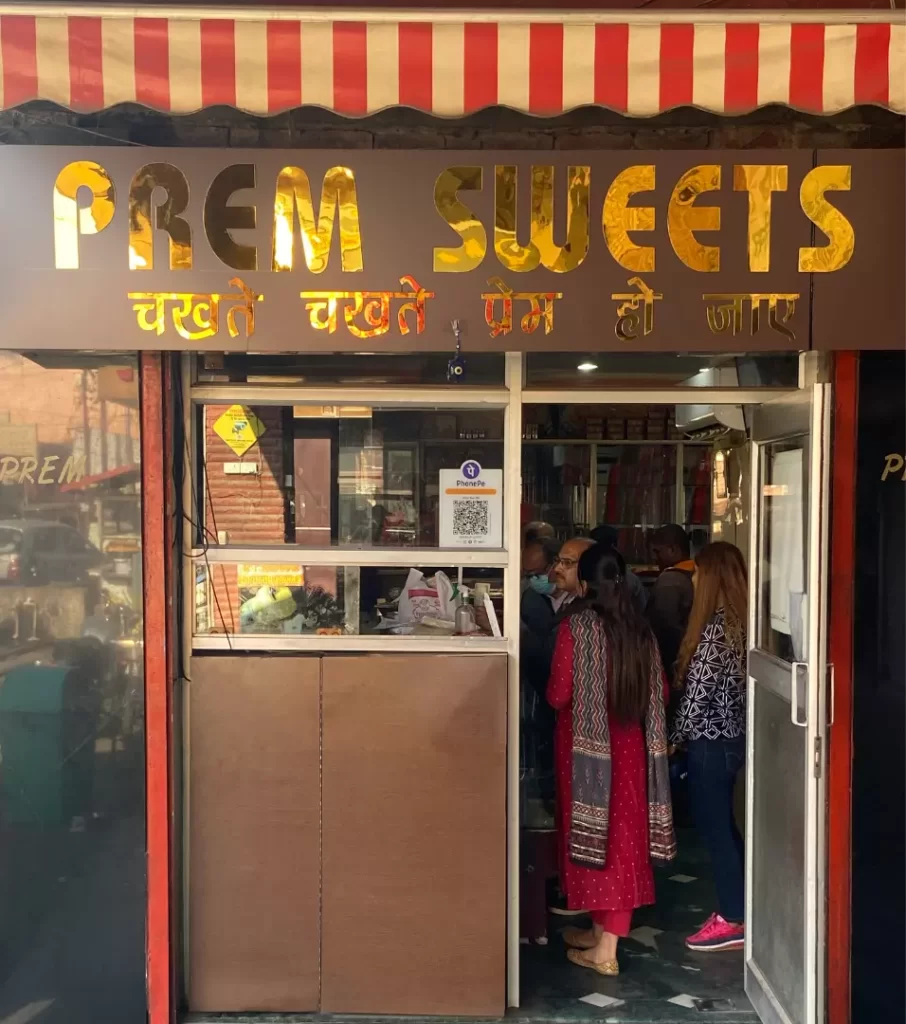 Why You Should Buy Cake From Prem Sweets and Bakery?
Prem Sweets and Bakery is not only a bakery or a sweet shop. But it is a trust of many people now. From a small business, it has become a national phenomenon. A huge variety of sweets and bakery items like cookies, cakes, and pastries are available.
You can also get yourself a customized cake. Don't forget to book one for the next special occasion. We focus on creating new, and delicious recipes for dessert. The best bakery in Moradabad– Prem Sweets and Bakery. As a bakery, we continually try to improve quality and add more options for you to our menu. The presentation of delicious sweets and other bakery products varies all over the year. As we prefer using seasonal fruits and other ingredients to prepare it.
Our vision is to serve our customers with the best quality desserts and bakery items. We maintain proper cleanliness while baking and in our outlets as well. Read further to learn in detail about us.
Customizable Cakes
We will try to make your special occasion more precious by customizing a cake for you. Personalized items leave a great impact on us. From a normal word that we can personally relate to a cake that is customized only for us. Little things make a huge difference. We all love special efforts from our loved ones. so the best bakery in Moradabad– Prem sweets and Bakery is available to customize a cake for your loved ones. Give a special gift from your side to your dear one on their special occasion.
Creativity
Our Bakers always try to be unique and creative while baking desserts for you. From the dough of cookies to the base for a cake everything is prepared with special care.
Cleanliness
We prefer not to compromise with the quality. Cleanliness is one of the important factors that define the quality of the product. Another thing that maintains the quality of our product is ingredients. Ingredients that are used in products are pure and simple. We prefer using pure desi ghee to prepare sweets. In order to be sure that quality should not be compromised.
What Categories Do We Serve?
From sweets like jalebi and imarti to bakery items cookies and cakes. We got everything for you. Breakfast, snacks, sweets, namkeen and so on things are available on our menu. Bakery items of Prem Sweets and Bakery include:-
In cookies we have:
In cookies we have:
Butter Pista Cookies,
Butter Almonds Cookies,
Jam Cookies,
Atta Cookies,
Besan NanKhatai,
Marvel Cookies,
Biscotti Cookies,
Dry Fruit Cookies,
Jeera Cookies,
Ajwain Cookies,
Chocochips Cookies and so on are available.
Cakes Options
Pineapple Cake
Strawberry Cake
Black Forest Cake
Butter Scotch Cake
Truffle Cake
Red Velvet Cake
Fresh Fruit Cake
Mawa Cake
Pastries Options
Black Forest Pastry
Strawberry Pastry
Butter Scotch Pastry
Truffle Pastry
Chocochips Pastry
Totty Footy Pastry
Mango Pastry
Dessert
Browny
Choco Lava
Big Muffins
Small Muffins
Donats
Cream Roll
Chocolate Cream Roll
The list does not end here. Visit the best bakery in Moradabad. Try the delicious bakery items and sweets. Satisfy your sweet tooth.
Things We Keep In Mind While Baking
Baking is an easy task if done with love. So we lovingly bake for our customers. You should try it once, right? Here are the things that we keep in mind while baking cakes, pastries, and cookies.
For all the items we serve, we make sure that they must be cooked in a hygienic place. The ingredients used in it must be of good quality. These two things help us to serve at our best. Besides this particularly while baking a cake we keep in mind the following points:-
Delicious Appearance
The presentation of the cake must be attractive. Together with being delicious it must look drooling. So to customize the cake we follow your instructions. For the rest, our creative bakers give their best. From a black forest pastry to the strawberry cake. Every item not only tastes delicious but looks attractive as well.
Impeccable Taste
As mentioned earlier, never compromise with quality. Every bite of cake is so soft that it will make you feel like heaven. All the items including cookies and pastries are enriched with delicious flavors. It will make you smack and surely satisfy your taste buds.
Fresh Frosting
A party is incomplete without cake. Similarly, a cake is incomplete without frosting. You will taste the best frostings on our cake. The tastiest part of a cake. We use the best quality creams to prepare the frosting. You should give it a try.
Our bakers make sure that a cake is properly baked. So that you will get a spongy and fluffy cake for your precious occasion. The quality ingredients help us to make sure of this.
We choose the ingredients for our items very carefully. Make sure that they are fresh, and have good flavors and some natural value in them.
Conclusion
In a nutshell, one thing that needs to be clarified is that:- Many people think that eating pastries and cakes is not healthy. So they limit their consumption or avoid it. Although having it on a regular basis is unhealthy! But if you have it on special occasions like birthday parties. It will give you benefits. So get yourself one from the best bakery in Moradabad.